The advent of online land records has emerged as a burgeoning trend in India, providing citizens with convenient access to crucial land-related information. In alignment with this modernization, the Government of Odisha has introduced the Bhulekh Odisha online land records system. This digital platform empowers citizens to swiftly access their land details within the state.
Let's explore the intricacies of the Bhulekh Odisha plot details, outlining the specifications set forth by the relevant authorities of the Odisha Government. These online resources, streamline the process of accessing and verifying land-related information for the benefit of the citizens.
Key Highlights of Bhulekh Odisha 2023
| | |
| --- | --- |
| Name of the Service | Bhulekh – Odisha Land Records |
| Beneficiaries | Citizens of Odisha |
| Department | Revenue Department |
| Online Application Link | https://bhulekh.ori.nic.in |
| Application Type | Online/Offline |
Understanding the Services Available on the Bhulekh Odisha Portal
The Government of Odisha recently launched the Bhulekh Odisha Portal to facilitate citizens in reviewing their land records across the state. The primary objective behind this online service is to eliminate the necessity for citizens to physically visit governmental authorities and complete applications to access their land information.
With this online platform of Bhulekh Orissa, individuals can conveniently inspect their Record of Rights (ROR) documents, which encompass pivotal details such as Bhulekh Odisha plot details, landowner names, land history, costs, and agricultural aspects.
The management of these documents falls under the purview of the Revenue and Disaster Management Department of the Government of Odisha. By accessing their ROR documents online, citizens can stay apprised of their land ownership status and its agricultural aspects. This digital transformation amplifies the convenience and transparency in land-related transactions.
Features and Benefits of Bhulekh Odisha Portal
The portal offers numerous advantages to its users:
1. Centralized Information: The portal serves as a centralized repository for land records in Odisha, effectively condensing a wide range of information into a single platform. This obviates the need for individuals to sift through various sources to obtain the information they require.
2. Time-Efficiency: The online portal of Bhulekh Orissa obviates the necessity for physical visits to government offices in order to access land records. This, in turn, saves considerable time and effort for users who can conveniently access the information from the comfort of their homes or workplaces.
3. Transparency: The portal contributes to enhancing transparency in the land record system. It enables users to view and verify ownership details, land transactions, and other pertinent information, thus ensuring a transparent and accountable process.
4.Ownership Verification: One of the core functionalities of the portal is enabling users to ascertain the ownership status of a property. This feature is instrumental in verifying the legitimacy of ownership claims and in preventing fraudulent land transactions.
The government has started Madhubabu Pension yojana under which all the aged persons between 60 and 80 have been included.Read more to learn about this scheme.
How to Check ROR Bhulekh Odisha 2023
To access the Odisha Land Records of Rights (RoR) online via the e-Pauti Odisha portal, follow the step-by-step guide below:
Step 1: Visit the official website at bhulekh.ori.nic.in (bhulekh ori nic in Odisha).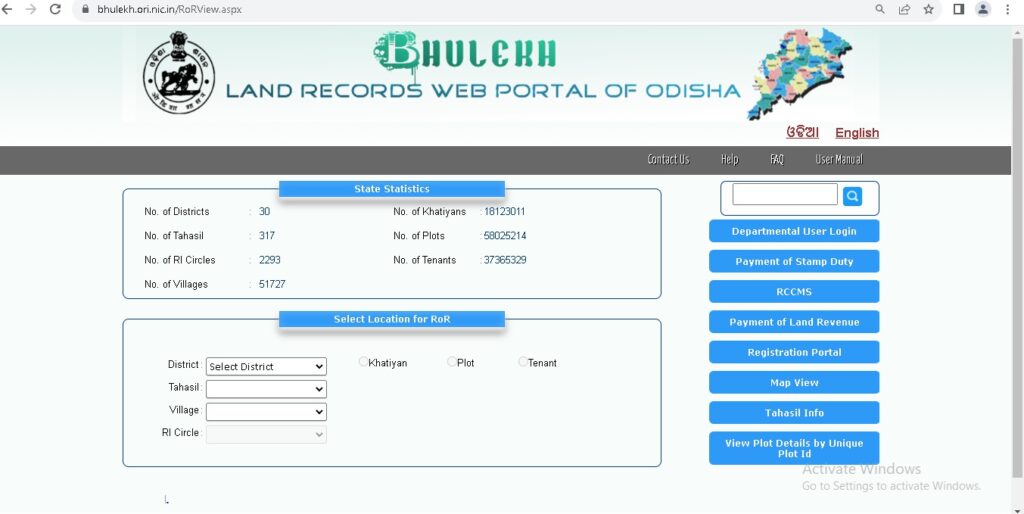 Step 2: On the main page of the e-Pauti Odisha portal, locate and click on the 'ROR View' tab.
Step 3: You will be presented with various options to check land records, depending on the specific information you possess, such as Khatiyan number, Plot Number, or Tenant. Choose the appropriate option based on your knowledge.
Also learn about PM Yashasvi Yojana, initiated by the Central Government, which offers scholarships of Rs. 75000 for the students who achieve academic excellence.
How to check property ownership online in odisha with Plot Number
To retrieve bhunaksha Cuttack details using the Plot Number, read the following steps:
Step 1: Visit the official page (bhulekh ori nic in Odisha) and click the "Plot Number" button. Select the relevant options for District, Tehsil, Bhulekh Odisha village map, and RI Circle as necessary.
Step 2: Once you have chosen the desired options, the Bhulekh Odisha plot details details will be displayed. To view the document, click on "ROR Front Page" or "ROR Back Page" based on your preference.
How to Make Payment of Land Revenue in Odisha?
Follow the below steps to make payment of land revenue in Odisha.
Enter your demand details
Click on 'Proceed'.
Make the required payment.
How to view a Map in Odisha?
Follow the below steps to view a land map.
Visit Bhunaksha Website.
Select your district.
You will be directed to a new page. Here, select your tehsil, RI, village, and sheet number.
You can view the Bhulekh Odisha village map in this format.
How to Access Plot Details by Unique Plot ID in Odisha:
Follow these steps to access plot details using a unique plot ID in Odisha:
Visit the official website.
Click on the option labeled "Plot Details by Unique Plot ID."
3. Enter your unique plot ID.
4. If you don't know your plot's unique ID, you can search by providing your relevant details in the designated box.
5. You will then be able to view the details of your plot in the specified format.
The government is offering micro-credit facilities for street vendors affected by two COVID-19 pandemic through PM SVANidhi Yojana. Read more to know about this scheme
How to Check the Case Status of Land in Odisha:
To check the case status of land in Odisha, follow these steps:
Visit the RCCMS Portal.
2. Click on the "Case Status" option.
3. Enter the required case details.
4. Click on "View Case Status" to access the information you need.
How to Apply for Bhulekh Odisha Offline:
If you prefer to check bhunaksha Cuttack through traditional means, you can visit the nearest district revenue office. Here's a step-by-step guide on how to apply for Bhulekh Odisha ROR offline:
Step 1: Visit your nearest revenue office.
Step 2: Fill out the RoR (Record of Rights) application form along with a corresponding application.
Step 3: Along with the application form, submit necessary identity proof, address proof, and any other required documents.
Step 4:Upon submission, you will receive an acknowledgement slip.
Step 5: The verification process will then commence. Once the verification is complete, a certified copy of land records with Bhulekh Odisha naksha will be issued to you.
How to Download Odisha Bhulekh Land Record
To download the e-Pauti Odisha land record details, adhere to the subsequent steps:
Visit the official Bhulekh Odisha ROR portal
Locate and click on the "Select Location for ROR" option.
Choose the appropriate District, Tahasil, Village, and RI Circle from the options provided.
Select the relevant land record option, such as Khatiyan, Tenant, or Plot.
Fill in the details in the designated fields based on your chosen option.
Click on "RoR Back Page" or "RoR Front Page" to view the land records.
Once the land record page is displayed, click on the "Print" option.
Save the file as a PDF on your device.
Conclusion
The introduction of this land record portal of the Government of Odisha signifies a significant leap forward in land record management. This online system empowers citizens with convenient access to their land records, effectively eliminating the necessity for physical visits to government offices. It simplifies the process of verifying ownership and agricultural details, fostering a more transparent and accounting system for all stakeholders involved.
You can also read:
MO Ghara Yojana Odisha 2023 : Online Apply, Eligibility and Benefits
Kalia Yojana Online Apply : Kalia Status, Kalia Yojana Correction Online
Mission Shakti Scooter Yojana: स्कूटी पर 1₹ लाख की ऋण सुविधा
Bhulekh Odisha & Bhu Naksha : FAQs
Q1. What is Bhulekh Odisha?
Bhulekh Odisha is an online portal launched by the Government of Odisha that allows citizens to access and view their land records and related information.
Q2. What are the key services offered by Bhulekh Odisha?
Bhulekh Odisha offers various services, including the ability to check Record of Rights (ROR) documents, verify land ownership, and access digitized Bhulekh Odisha plot details map online.
Q3.  How can I access my land records through Bhulekh Odisha?
To access your land records on the Bhulekh Odisha portal, you can visit the official website, select the relevant options (such as Khatiyan number, Plot Number, or Tenant), and view or download the records based on your preference.
Q4.  What is Bhu Naksha in Bhulekh Odisha?
Bhu Naksha, also known as land maps provides detailed information about land parcels, helping users understand the geographical layout and boundaries of their property.
Q5. Is Bhulekh Odisha a free service?
Yes, Bhulekh Odisha provides free access to land records and related services for the citizens of Odisha. There are no charges for using the online portal to view or download land records.
Q6. How accurate are the land maps (Bhu Naksha) on Bhulekh Odisha?
The land maps provided through Bhulekh Odisha naksha or Bhu Naksha are considered accurate and reliable for cadastral mapping purposes.
Q7.  Can I use Bhulekh Odisha for land-related transactions, such as property buying or selling?
Bhulekh Odisha is a valuable resource for verifying land ownership details and it can provide essential information for land transactions.
Q8.  What is the customer support contact for Bhulekh Odisha?
If you have inquiries or require assistance, you can contact the customer support services for Bhulekh Odisha naksha at the following phone number: 0671-2509582.
Q9. Are there specific requirements for accessing Bhulekh Odisha online?
To access Bhulekh Odisha, you need a stable internet connection and recommended to have a supported web browser with an updated PDF viewer for downloading land records.
Q10. Is there an application fee in Odisha for obtaining land records?
Yes, there is an application fee of Rs 30 for obtaining land records in Odisha.