MBA In Power Management In India | NPTI | Salary | Eligibility
The world is experiencing a remarkable transformation in its energy landscape. With growing concerns about climate change and the need for sustainable power solutions, the energy sector is at the forefront of global change.
In this dynamic environment, an MBA in Power Management emerges as a program that not only opens doors to promising career opportunities but also equips individuals to drive the transition toward cleaner, more sustainable energy practices.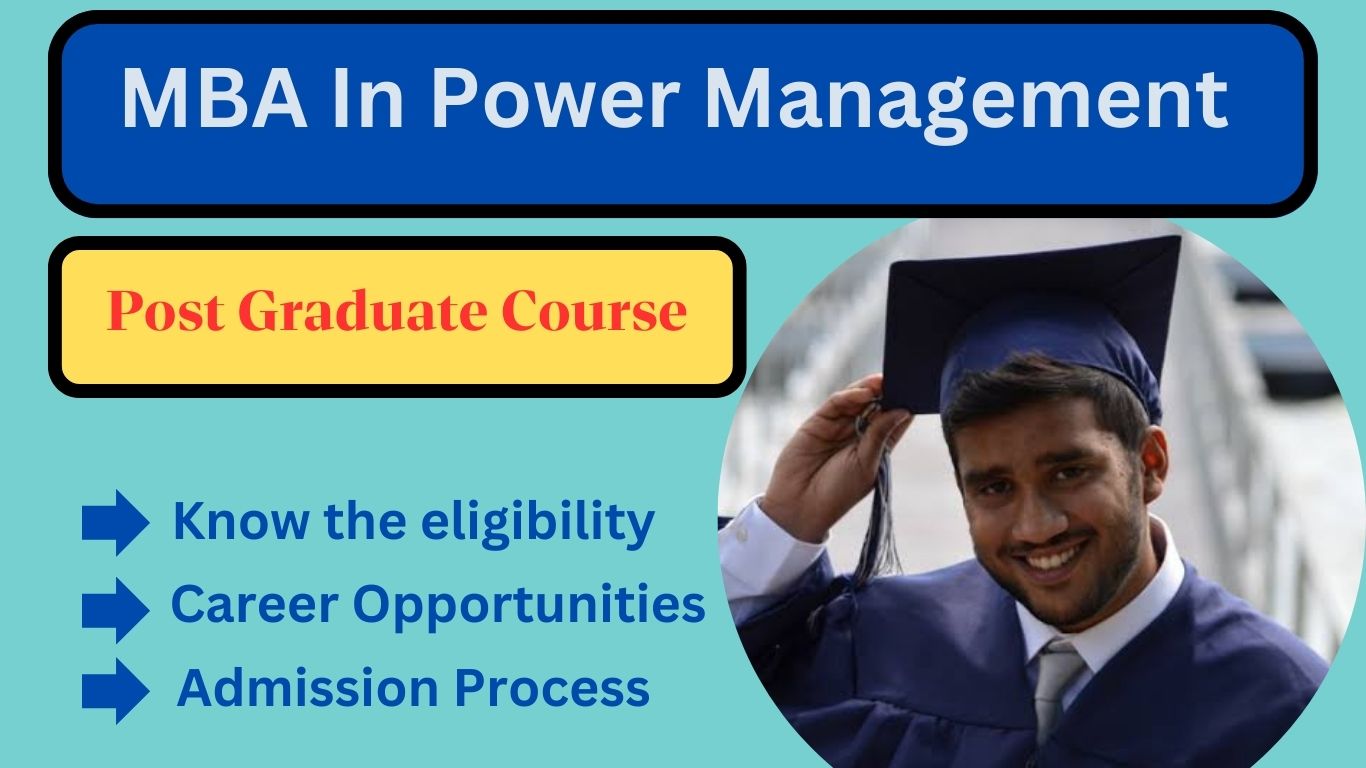 What is power management as a degree?
MBA in power management in India is a postgraduate degree programa mid or senior management positions in the power and allied industries developed for individuals who desire to advance to mid or senior management positions in the power and allied industries. The course lasts two years and can be extended for up to five years. The training provides a thorough understanding of power management.
MBA in Power Management is given through distance education, so you can keep working while studying. The programs are provided in a blended learning approach that combines self-learning supported by our customized Learning Management Platform, instructor-led live interactive sessions on weekends, and real-world experience via case studies or projects.
This post graduate diploma in power management paves the way for promising careers in utilities, renewable energy, regulatory agencies, and consulting, positioning professionals to lead the charge in shaping a more sustainable and responsible energy future.
Best Online BBA Course : Universities, Admission, Fee & Eligibility In India (2023)
Skills Required For MBA In Power Management
The power management sector demands a diverse skill set to address its complex challenges effectively. Key skills required include:
Energy Expertise
Profound knowledge of power generation technologies, energy sources, and distribution systems.
Business Acumen
Skills in strategic planning, finance, marketing, and project management, tailored to the energy industry.
Problem Solving
The ability to tackle complex energy challenges, fostering critical and innovative thinking.
Leadership and Communication
Effective leadership, team management, and strong communication skills are essential for guiding energy-related projects and teams.
Adaptability
As the sector evolves with technology and policy changes, adaptability is vital.
Interdisciplinary Thinking
Considering economic, environmental, and social factors holistically in decision-making.
Safety Awareness
Vigilance regarding safety protocols and regulations in power management is crucial to prevent accidents and ensure operational safety.
These skills collectively equip professionals to excel in the power management sector, where they can drive sustainable and efficient energy practices.
Best Online MBA Courses : Admission And Fees Detailed Comparison 2023
MBA in Power Management Eligibility
Before submitting an application for the MBA in power management in India, applicants must make sure they meet the requirements. The application will be turned down if any of the requirements are not met. Below are some of the MBA in power management eligibility criteria.
Educational Background
Applicants are typically required to have a bachelor's degree in a related field. This may include degrees in business, engineering, environmental science, or a closely related discipline. Some programs may accept candidates from diverse academic backgrounds.
Minimum GPA
Many institutions require a minimum undergraduate GPA, often ranging from 2.5 to 3.0 on a 4.0 scale. However, competitive programs may have higher GPA requirements.
Standardized Test Scores
Some MBA in power management colleges may require scores from standardized tests like the Graduate Management Admission Test (GMAT) or the Graduate Record Examination (GRE). The required scores can vary between institutions, and some programs may offer waivers based on work experience or other qualifications.
Work Experience
Many MBA in power management NPTI programs, including those in Power Management, prefer applicants with relevant work experience. This can range from 1-3 years or more. Work experience in energy-related industries or roles is often highly valued.
Letters of Recommendation
Applicants are typically asked to provide letters of recommendation from individuals who can attest to their academic or professional qualifications.
Statement of Purpose or Essays
 Applicants may be required to submit a statement of purpose or essays outlining their career goals, reasons for pursuing the post graduate diploma in power management, and how their background aligns with the program's objectives.
English Language Proficiency
For international applicants from non-English speaking countries, proof of English language proficiency, often in the form of TOEFL or IELTS scores, may be required.
Interview
In some cases, applicants might be asked to attend an interview as part of the admission process.
It's essential to check the specific admission requirements for the MBA in power management NPTI program at the institution you are interested in. These requirements can vary significantly, so it's crucial to ensure you meet the criteria before applying.
MBA in Power Management Colleges
In a world that's increasingly concerned about sustainable energy and efficient power management, pursuing an MBA with a focus on power management is a wise choice. If you're considering this career path, we've brought you a list of MBA in power management colleges to help you pursue great knowledge and skills.
MBA in Power Management Syllabus
Pursuing an MBA in Power Management is an excellent way to equip yourself with the knowledge and skills needed to excel in this dynamic and vital field. Here is a list of MBA in Power Management syllabus, which helps you understand what to expect from such a program.
Here are the subjects you will cover throughout this duration:
MBA in Power Management Admission Process
The admission process for an MBA in Power Management involves several key steps.
1) Firstly, aspiring candidates should research and select programs that align with their career goals.
2) MBA in power management eligibility criteria typically require a bachelor's degree, a minimum GPA, and relevant work experience, with some programs mandating standardized test scores like the GMAT or GRE.
3) Prospective students need to prepare application materials, which often include transcripts, letters of recommendation, a resume, and a statement of purpose detailing their career aspirations.
4) For international applicants, English language proficiency tests like TOEFL or IELTS may be necessary.
5) Candidates then complete the online application, paying any required application fees.
6) After submitting applications, admission committees review them, considering academic qualifications, work experience, and more.
7) Once accepted, students accept the offer, explore financial aid and scholarships, and complete orientation and registration processes before commencing their MBA in Power Management journey.
Career Prospects
An MBA in Power Management opens the door to a wide range of promising career opportunities in a sector that's crucial for a sustainable future. Graduates are well-equipped to lead, innovate, and make a significant impact in the energy and power industry. Career prospects include roles in:
Energy Companies: Graduates can work for utility companies, power generation firms, and energy providers in various capacities such as operations, project management, and strategic planning.
Renewable Energy: With the world's growing emphasis on sustainability, there are ample opportunities in the renewable energy sector, including solar, wind, and hydroelectric power.
Consulting: Energy consultancies rely on experts in power management to advise clients on energy efficiency, regulations, and sustainable practices.
Government and Regulatory Agencies: Careers in government agencies or regulatory bodies involve shaping energy policy, ensuring compliance, and promoting responsible energy practices.
Startups and Entrepreneurship: MBA in Power Management graduates often have the skills and knowledge to establish their own ventures in the renewable energy and sustainable technology sectors.
Environmental and Sustainability Roles: Graduates can work in positions that focus on reducing the environmental impact of energy production and enhancing sustainability practices.
Research and Development: Opportunities exist in research institutions, labs, and development centers where innovation in energy technologies and practices is vital.
Financial Sector: Some graduates leverage their expertise in power management in financial roles, such as energy investment analysis and sustainable finance.
Scope of Power Management in India and Abroad
The power management sector has a substantial impact on the Indian economy, both directly and indirectly. In the next ten years, India's power sector is expected to surpass 300GW, making it a very lucrative profession for students pursuing MBA in Power Management Courses.
Students choose the management degree MBA in power management syllabus, while the Power Management course is comparatively less studied. MBA graduates have numerous employment options in both the government and non-government sectors.
And, as electricity consumption and supply get more complicated around the world, the employment rate is expected to rise in the coming years.
Power economics, electricity distribution legislation, and power resource management are some of the most essential sectors of power sector hiring specialists. Employees with field expertise can earn up to Rs. 15 lakhs per year in respected firms, with starting MBA in power management salary ranging from Rs. 3.5 lakhs to 9 lakhs per annum. Experience, geography, and specialization are some variables that determine pay. Graduates of the MBA in Power Management can increase their income by participating in worthwhile internships that will broaden their horizons.
MBA in Power Management : FAQs
Conclusion
The pursuit of an MBA in Power Management is a strategic investment in a future where energy sustainability and management are paramount. As the global energy landscape continues to evolve, the knowledge, skills, and insights gained through this MBA are invaluable assets.
Graduates are not only well-prepared to drive innovation and efficiency but also to contribute significantly to a greener and more sustainable future. In this dynamic field, an MBA in Power Management is a key to unlocking a world of opportunity and positive change.
mba in power management salary,mba in power management eligibility mba in power management colleges,mba in power management syllabus,mba in power management in india,mba in power management npti,salary,eligibility,colleges,mba in power management syllabus,mba in power management in india,mba in power management npti
mba in power management in india,mba in power management,mba in power management npti